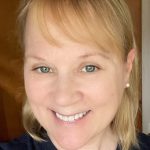 The American Dance Festival (ADF) has promoted Sarah Tondu to the new role of Managing Director. Sarah has held several positions at ADF including seasonal House Manager (1997–2001), Director of School Administration (2001–2007), Director of Performances and Community Programs (2007–2013), and Director of Communications and Marketing (2013–2021).
In her new role as the Managing Director, Sarah will take over day-to-day administrative management after the retirement of Cynthia Wyse, Director of Finance and Administration, last month. She will also oversee ADF's summer intern program, which provides hands-on experience to those interested in arts management.
Sarah holds a Bachelor of Arts and a Master of Fine Arts in Dance from Mills College.
PRESS CONTACT
Amy Hoppe
amy@americandancefestival.org
919-684-6402