General Policies
All students (or their parent/guardian) are required to sign a liability, film, and photography waiver (provided in-person or when you register online). Space in class is determined on a first-come-first-served basis. Students should arrive on time for class properly dressed and ready to dance. A student arriving more than 15 minutes late may be asked to observe class; important warm-up exercises take place in the beginning of class and a student who is not properly warmed risks being injured. Class rates are subject to change. Classes may be cancelled due to inclement weather or emergencies (we will give as much notice as possible). Classes that don't meet the minimum number of students are subject to cancellation; refunds will be given for classes not taken. ADF is not responsible for lost or stolen items.
It is the policy of the American Dance Festival to ensure that all individuals are treated equally and that no person shall, on the basis of race, color, national origin, political affiliation, religion, marital status, sex, sexual orientation, gender, age, or ability, be excluded from safely participating in our programs. Reasonable accommodation will be provided upon request to individuals with disabilities. If you have any questions or concerns regarding accessibility at ADF, please contact jscullythurston@americandancefestival.org or 919-797-2871.
Tuition Policies, Payments, and Refunds
Pre-registration is required for Youth Classes, and students cannot attend on a drop-in basis.
Classes purchased in bulk (5 Classes or 10 Classes) are non-refundable and non-transferable. They also cannot be used for Workshops or Youth Classes.
Drop-In Classes are non-refundable. If you make a reservation online and anticipate an absence, please call or email us and we will credit the class toward a future reservation.
Youth Trial Classes are available if there is still space in a class by the first day of the term. Students are allowed to attend one class as a trial for free. If the student registers for the class, the full tuition is due. Parents should contact the Studio Manager to check trial class availability.
Late Youth Registration Youth Tuition for late registrations will not be prorated within the first four weeks of the term. Pro-rated tuition is available after the first four weeks of the term. Make-up classes may be available as an alternate option. Parents should contact the Studio Manager with all late registration inquiries.
Youth Tuition is only refundable within the first 2 weeks of the term for which the child is registered. The tuition refund is prorated, based on classes taken. If a student must withdraw from a class, written notification is required and must be sent to the Studio Manager.
For all Workshops, tuition is non-refundable once the workshop has commenced and may not be credited toward any future classes. Tuition for a workshop is only refunded if a written notice is provided 24 hours prior to the start of the workshop.
There is a 10% discount available for households registering for two or more youth classes a term (discount not available online – please call or email – must register by term start).
Payment plans are available. To be enrolled in a payment plan, parents must contact the Studio Manager, to set up an automatic monthly draft of their credit card. The first payment will be due on the first day of a household's registration. The remaining payments will occur on a monthly basis from the initial set-up date. The total tuition cost of the household must be paid in full by the end of the current term.
Checks should be made payable to "American Dance Festival" or "ADF." A $25 fee will be due for all checks returned for any reason. The fee must be paid in cash within one week from the time the owner of the account is notified. Student will not be able to take classes or register for any further classes until the entire outstanding balance is paid.
Gift Certificates are available for purchase. Gift Certificates expire one year from date of purchase and are non-refundable. Purchase online or in-person at the Studios.
Classroom Etiquette and Dress Code for Youth Classes
In order to maintain a safe, enjoyable, and educational environment, all students and their families should observe the following etiquette guidelines:
We recommend arriving 10 minutes early so that students are dressed and ready to dance when class begins, especially since important warm-up exercises take place at the start of class. Students, especially our youngest ones, should use the bathroom before class begins and are expected to remain in the studio throughout the class period. If a student needs to use the bathroom, they should ask the teacher for permission and return promptly. Late arrivals and repeatedly entering and exiting the studio can be distracting and disruptive to other students and the instructor.
Students (and any siblings) must conduct themselves politely and quietly while in class and while waiting for class in the lobbies and bathrooms. Should a student become repeatedly disruptive, the Studio Manager and the student's instructor will assess what actions are necessary to restore a safe and educational classroom environment. Bullying or abusive behavior will not be tolerated and will result in immediate dismissal from class.
We understand that young children may initially have trouble adjusting to these expectations or experience separation anxiety. Although we encourage students to be in the studio on their own, no one will force your child into class. The instructor can help facilitate this transition, and, most importantly, will maintain an open channel of communication as we assess the needs of your child.
We do not have a strict dress code, however, we ask that students follow these guidelines:
Comfortable clothing that allows a full range of motion – no dresses
Bare feet* (no socks or footed tights)
Hair pulled back away from the face
No jewelry or costumes
* Canvas or leather ballet shoes are suggested for ballet classes. Sneakers or jazz shoes are permitted in Hip Hop, provided they are clean and have white or tan soles. No black-soled shoes or shoes that have been worn outside, please, as they leave marks on our studio floors.
Parent Handbook for Youth Classes
Our studios serve as a center for creative activity in which students learn in a welcoming and non-competitive environment from faculty who are experts in their fields. Please read our handbook to learn what to expect, and what is expected of you, during  your child's class.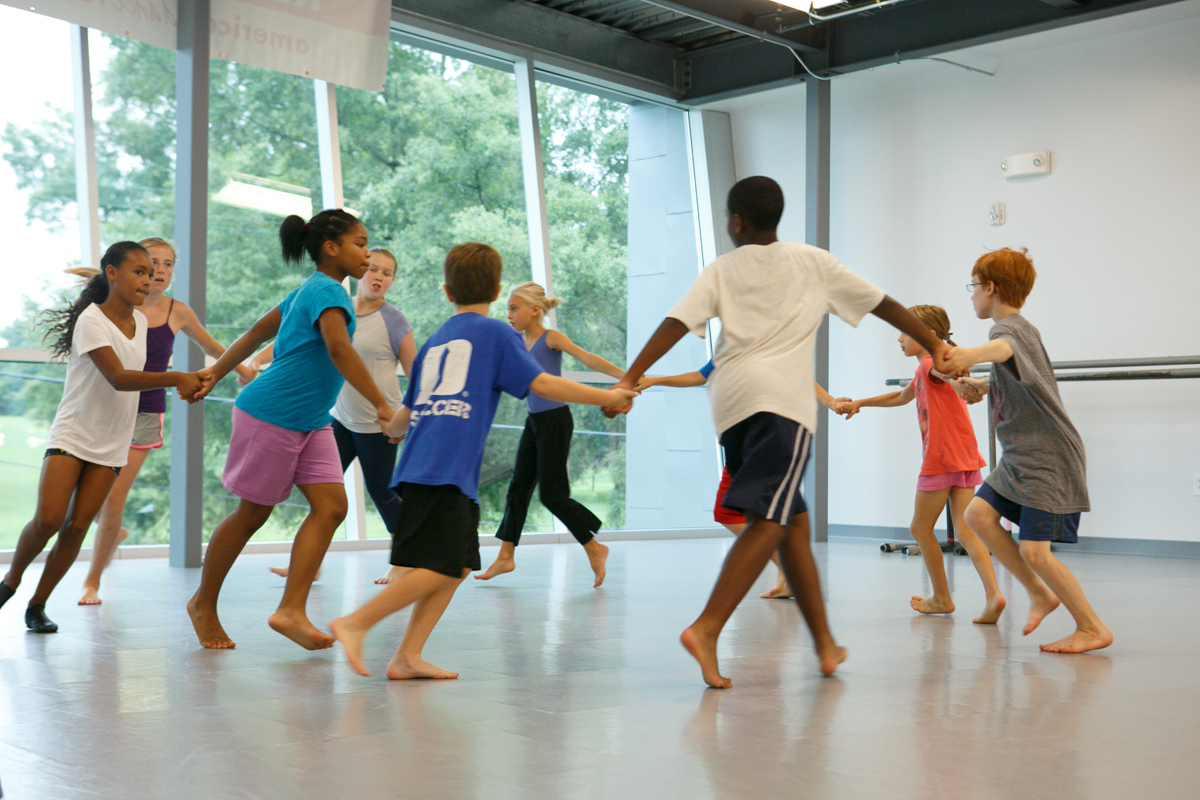 What is your weather cancellation policy?
We will evaluate on a case-by-case basis and post any cancellations on our Facebook. Of course, if at any point you feel uncertain about making the trip to class, please use your best judgment. Your safety is our top priority.
Where are you located and where can I park?
Our dance studios are located at 721 Broad Street in Durham, NC on the second floor. There is ample free parking in the lot attached to our building.
How do I register for a class/workshop/camp?
Is your space wheelchair accessible?
Yes, it is. Our building features the following accommodations:
Handicapped parking spaces
Elevator
Wheelchair-accessible bathroom stalls, as well as single-occupancy bathrooms on the first floor
The front door to the building, however, does not open automatically. If you have any trouble accessing our space, please call us at 919-797-2871 or 919-684-6402 and a staff member will gladly assist you.
Youth Classes
We also recommend that you read our Parent Handbook before registering your child for youth classes.
How do I register my child for classes?
Are there prerequisites for youth classes?
There are no prerequisites for any of our youth classes unless otherwise specified in the class description. Sometimes we assign "levels" to a class (e.g., Hip Hop I, Hip Hop II) to make it easier to differentiate the classes in our registration system.
My child has special needs/requires specific accommodations. Are there classes that they can take?
We would be more than happy to figure out what is best for your child. Usually it is most helpful for the Studio Manager, instructor, and parent/family to discuss your child's unique situation and how we can ensure a fun and educational experience for all. Please call us at 919.797.2871 if your child requires specific accommodations so that we can begin that conversation.
Can my child register for a specific class if they have already taken it in the past?
Yes, provided that they are the correct age for the class. Our classes focus on developmentally-appropriate dance education and children can benefit from taking a class for more than one term. For example, if your 4-year-old took Discovering Dance (ages 4–5) in the fall, they would be encouraged to take it (or another class for their age group) until they have aged out of the class. Of course, every child is different, so feel free to talk to a staff member and/or your child's teacher if you're not sure what is best for your child.
My child's current class doesn't seem like the right fit. Can we switch classes or receive a refund?
Our recommendation would be to try another class to see if it better suits your child. Please contact us at studios@americandancefestival.org, and we will be happy to help facilitate the switch. If you choose to withdraw your child instead, you may receive a tuition refund if it is within the first two weeks of the term.
My child needs to miss a class/has missed a class. Can they make up in another class? Do we need to schedule it?
Your child may make up in another class, provided there is room in the class and your child is the correct age for the class. Feel free to ask reception staff if space allows for a make up. You do not need to schedule make up classes in advance, you may simply show up when your schedule permits.
Is there a performance or a recital at the end of the term?
We do not have any formal performances for our youth classes, however, instructors typically choose to do an informal showing for family and friends during the last class session. Your child's instructor will let you know of their specific plans toward the end of the term.
Can I leave the building while my child is in class?
Young children may initially have trouble adjusting to a new class or experience separation anxiety. For this reason, we recommend parents of young children remain in the building during their child's class. You are welcome to observe class from the viewing hallway or relax in the lobby. When in doubt, it is best to discuss with your child and your child's instructor if they are comfortable with you leaving the building. If you cannot stay during your child's class, please make sure the desk staff has an accurate phone number in case of emergency.
Are there any scholarships or financial aid options for youth classes?
ADF does offer tuition scholarships to dedicated students who demonstrate financial need. More information on scholarships can be found here. We also offer payment plans if you are able to pay the full tuition amount, but not all at once.
My child is having some separation anxiety. Is it okay for me to come into the studio during class until they are ready to be on their own?
Typically this is more than fine and the instructor is able to help your child eventually feel more comfortable taking class by themselves. However, we ask that you (and any family members that must accompany you) follow the same etiquette that is expected of your child:
Refrain from repeatedly entering/exiting the studio
Conduct yourself politely and quietly
Respect the instructor and other students by refraining from side conversations
Drop-in Classes Questions
Do class cards expire?
No, class cards never expire. Once you purchase them, they are yours for life!
Do class cards work for any drop-in class?
Yes! You can use your class card for as many different drop-in classes as you like. Whether you find one favorite, or several, class cards are intended to be flexible.
Can I transfer some of my purchased classes to another student?
Sorry, but we can't transfer classes from one student to another. 
Do you offer any discounts?
You can find all of our rates and discounts listed on our Policies & Tuition page. Even if you don't qualify for a special discount, anyone can save by purchasing class cards. Class cards never expire, so they can be a worthwhile investment!
What is the difference between a workshop and a class?
Wondering why the offering you are interested in is called a workshop? The term workshop is used to describe special classes that will typically just be offered for one day only. 
Where can I find workshop offerings?
They are listed on both the Youth and Adult Class pages, depending on the age group for the workshop.
How much do workshops cost?
Each workshop is priced differently, so please check the workshop description for pricing details.
Can I use my class card to pay for a workshop?
No, class cards can only be used to pay for drop-in classes. You will need to purchase a workshop separately (unless it is a free workshop).