Free Movement Workshops
All people with Parkinson's and/or PD care partners are invited!
The classes are free, but you must Pre-Register at the links below to participate.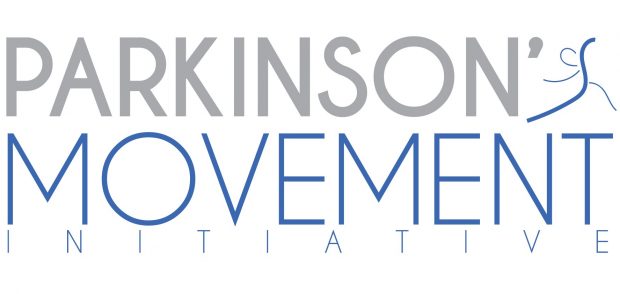 The Parkinson's Movement Initiative (PMI) was founded in 2017 by American Dance Festival (ADF), NC Dance for Parkinson's, and Poe Wellness Solutions, and offers consistent, weekly, cost-free movement classes to the PD community and their caregivers.  Our classes focus on mind and body connection through exercise and movement and provide an opportunity to engage with loved ones and meet others who are living with Parkinson's Disease outside of a clinical setting. Along with the physical benefits, PMI provides a space of shared experience and understanding.  
"Everyone is positive, encouraging, and focused on moving and enjoying it."
"I feel supported by the dance community and feel like I am an active participant in my care."
-PMI Participants
Pilates for Parkinson's
Join us for free weekly classes on Zoom by registering here, and check out our YouTube channel for video classes!

Weekly on Wednesdays 2:00-3:15 pm ET
January 12-April 6, 2022
Pilates for Parkinson's consists of a warm-up focusing on alignment, exercises challenging strength and balance, and a cool-down for stretching and relaxation. All exercises are explained and demonstrated with options for beginners as well as more advanced participants. Time is spent seated in a chair, standing with the wall or a chair for support, and on the floor. Each class explores new ideas for improving strength, flexibility, and balance.
Pilates for Parkinson's Intensive: 6 week focus on alignment, balance & confidence
Weekly on Mondays 2:00-3:15 pm ET 
March 14-April 18, 2022
This 6 week class explores alignment, balance and confidence with the goal of improving all three. Ideally, you attend all 6 sessions with each session building on the previous.  Recommended at home exercises are provided between sessions. For the first session please have a tennis ball (or ball of similar size) and a towel (size of hand or dish towel).
About the Instructor
Meg Poe is dedicated to health and happiness through movement and mindful living. She is a Duke-certified Integrative Health Coach, a Registered Yoga Teacher, and a certified Pilates instructor with a Master's Degree in Exercise Physiology from UNC Chapel Hill. She has been directly involved in educating and training students in the integration of mindful, healthy movement for over 25 years.
Dance for Parkinson's
Join us for free weekly classes on Zoom by registering here, and check out our YouTube channel for video classes!
Weekly on Sundays 3:00-4:15pm ET
January 9-April 10, 2022

Monthly on Fridays 3:00-4:15pm ET
Second Friday of the Month: Jan 14, Feb 11, March 11 & April 8, 2022
NC Dance for Parkinson's is modeled after the Dance for PD® program, developed by the Mark Morris Dance Group and Brooklyn Parkinson Group, and our teachers have attended their training workshops in Brooklyn. Although the class conveys the benefits of exercise, it also highly values the creative expression, aesthetics, and artistry that are at the core of dance as an art form. Participants will learn choreography in a variety of dance styles, including ballet, modern, jazz, and cultural/folk, and have opportunities to improvise and create unique movement sequences.
A typical class includes movement done seated, standing, and locomoting, with adaptations offered based on each individual's level of comfort and mobility. Participants dance together, in partnerships, and at times, solo. In addition to dance, the teachers utilize related art forms such as theatre games, poetry, image-based mindfulness, and storytelling to foster creative and expressive experiences. The class also promotes a sense of community where isolation is broken and meaningful connections are formed through the joy of dance.
Dance for Parkinson's Intensive
Weekly on Fridays 3:00-4:15 pm ET
April 29-June 24, 2022
This special session will focus on guided improvisation and collaborative choreography to build one or two longer pieces together. We will explore how words and poetry can inspire and support expressive movement… And we will, of course, have fun!
About the Instructors
NC Dance for Parkinson's was co-founded by Lindsay Voorhees and Susan Saenger. Lindsay has her MS in Occupational Therapy and a BA in Psychology and she is currently a licensed occupational therapist with a private practice, Whole Life OT. Susan has a BA in Biology and an MA in Dance/Movement Therapy. She is a Board-Certified Dance/Movement Therapist and a licensed clinical mental health counselor. Susan owns a personal training company, Spry Fitness, that serves older adults and people with physical challenges. Lindsay and Susan were both trained by David Leventhal of the Mark Morris Dance for PD® program and continue to pursue continuing education with Dance for PD®.

American Dance Festival is proud to offer Parkinson's Movement Initiative classes, Dance for Parkinson's and Pilates for Parkinson's, in partnership with NC Dance for Parkinson's and Poe Wellness Solutions and supported by a community grant from the Parkinson's Foundation. Through this support, all classes offered through the Parkinson's Movement Initiative are free for people living with PD and their caregivers.
Additional support is provided by RTI International, the Lyna J. Rogers Fund of Triangle Community Foundation in memory of Betty Y. Powell, and individual donors.
Parkinson's Creative Movement Lab
with Culture Mill's Murielle Elizéon & Tommy Noonan

A continuation of the previous Dancing With… workshop
Free classes offered via ZOOM
Thursdays @ 10 am-12 pm
May 5, 12, 19, and 26, 2022
This free workshop series will use mindful movement, dance and imagery to provide people living with Parkinson's Disease the tools to achieve increased quality of life, a reduction in the risk of falls, and a sense of personal agency. Creative Movement Lab workshops will be led by professional choreographers/dancers and an occupational therapist to explore specific themes linked to the experience of people with Parkinson's and engage in generative conversations that will leave participants energized, connected and resourceful. Creative Movement Lab workshops foster embodied creativity and agency and invite the perspectives and input of all participants.
The winter/spring class series follows the 2019 creation of the ADF-commissioned performance They Are All (read press here) and is an integrated part of a unique 3-year project led by choreographers Murielle Elizéon and Tommy Noonan of Culture Mill in collaboration with a diverse group of dancers living with and without Parkinson's, dance educators, Physical and Occupational Therapists, and Neuroscientists. The goal is to seed new perspectives on the positive effects of creative, mindful movement for those living with Parkinson's, and to lay the groundwork for a future formal research project. Find out more at movingthrough.live.
You must register for access to Zoom classes. Please follow the instructions below to attend Dancing With classes on Zoom:
1. Fill out the Dancing With Zoom Class here.  2. Download Zoom to your computer, tablet, or phone. For more info on Zoom, click here. 3. At the time of class, click the link provided to launch Zoom  on your device. A host will let you in.  Turn on your camera and/or microphone to be seen and heard. 4. Enjoy a LIVE virtual class with Murielle and collaborators!
Registration Form by clicking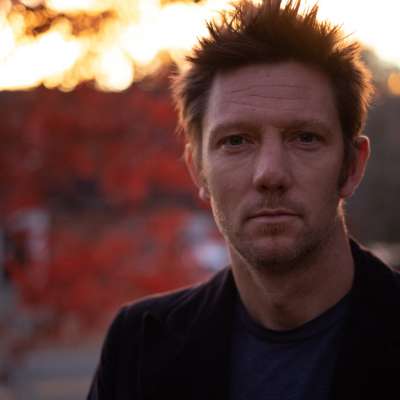 Tommy Noonan
In the 14 years that I have been a professional dance artist, the evolution of my work has seen numerous shifts in choreographic approach as well as in its context and reasons for engaging the dance medium. I have always understood myself as an innovator, and early on, my interest in innovation was focused on developing new choreographic movements and forms. My work as a choreographer, which has toured dozens of cities in more than 7 countries, has often been engaged heavily in the shifting power dynamics between performer and spectator as a deep meditation on seeing, witnessing, and being seen.
Learn More
When I moved back to my home state of North Carolina in 2014 from Berlin, I was interested in grounding my choreographic work in a sense of place, and reinvesting in the physical practices which underlie choreography in general. As Murielle and I settled in Saxapahaw, NC, I developed a number of connections with neighbors and community members outside of dance and even the broader field of art — people such as farmers, carpenters, retirees, butchers, activists, and others. These relationships have since begun to inform my current approach to dance creation, defined by its deepening investigation into physically emergent forms, its connection to broader non-arts communities, and the assertion of its relevance as social practice. This comes through a recognition that all people have bodies that exist within a social sphere, and those people and their bodies can be dynamically engaged using dance tools and processes.
As I have continued to develop work both at the American Dance Festival and elsewhere, it is my intention to further this direction of choreographic work, specifically exploring its links to social practice, and the power of seeing and being seen, especially in the crafting of choreography together with non-professional dancers. As a choreographer, I possess many tools which can be of benefit when taken as socially engaged practice: somatic learning, the practice of negotiation across lines of difference, and developing comfort with the unknown and with processes. I remain committed to working in such processes and with non-professional populations as a means to develop as a human in my own community and as an artist in new approaches to choreography.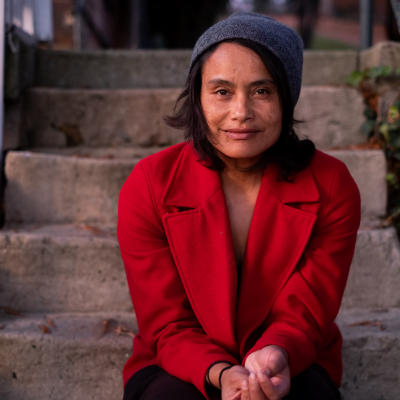 Murielle Elizéon 
Since the beginning of my career, I have advocated for the relevance of the creative body to develop the full potential of the individual in relationship to the community where she/he/they live.
Engaging in embodied practices and creative projects strengthens physical health, body-mind connection, sense of relevance, emotional intelligence, resilience and helps us connect to a shared sense of humanity. The integration of a creative body-mind unlocks new possibilities at a physical, emotional, cognitive and even spiritual level. It allows a richer way of connecting, knowing, thinking, and… moving.
Learn More
Since I became a professional in dance about 25 years ago, I have looked for opportunities to create projects integrating participants of various ages and abilities and within various socio-economic contexts and demographics. I participated in international performance projects in France, Germany, Denmark, and the US and worked extensively with professional dancers, actors, children of all abilities, and seniors aged 65 to 95. Each of the projects I lead intentionally invited participants to explore and become aware of all levels of their individual experience, as well as their relationship to the temporary community assembled for the project, as a crucial part of the creative process itself.
I graduated in Dance Pedagogy in Paris (France), trained in Inclusive Dance with Dance Ability International in Vienna (Austria), and followed a Certified Teacher Yoga training in the US. I continue to practice and learn from Somatic approaches, and meditative practices such as Mindfulness Meditation, Qi Gong, and Feldenkrais Method. These different approaches are integrated at different levels of my creative work: from creating performances to collaboration with non-arts sectors such as medical research, and from movement/dance training to community development and leadership.
Dancing With is funded in part by a grant from South Arts in partnership with the National Endowment for the Arts and the North Carolina Arts Council. Additional support is provided by RTI International.