Did you know that the American Dance Festival offers free dance and Pilates classes for individuals living with Parkinson's disease (PD) and their caregivers? The Parkinson's Movement Initiative (PMI) classes have served over 300 unique individuals (and counting!) and created a meaningful community among its participants. The PMI program was founded in 2017 as a collaborative effort among ADF, NC Dance for Parkinson's, and Poe Wellness Solutions.
In this article, we'll discuss Parkinson's disease and how dance is beneficial. Then we'll describe the classes offered and how to sign up for them. We'll also be showcasing clips from the video presentation "You Can Move with Parkinson's: Options for Self-Management of Parkinson's Disease." This video features PMI student Vivian Ford and class instructors Susan Saenger and Meg Poe, presented by the Durham County Library.
What is Parkinson's disease?
The Parkinson's Foundation says that the first step to living well with Parkinson's disease is to understand the disease and its progression. PD is the 2nd most common neurological disease after Alzheimer's with one person being diagnosed every 9 minutes.
It most commonly affects movement with side effects like tremors, stiffness, and difficulty with balance. Other effects include loss of sense of taste and smell, anxiety, depression, difficulty swallowing, and loss of voice.
PD is a chronic condition with a noted increase in symptoms over time. Every person with PD is different. You should always consult your physician about your medical options. Along with medication, they may suggest several types of therapies to self-manage PD like physical therapy, speech therapy, art therapy, or dance therapy. 
Why is dance beneficial for people with Parkinson's?
There are numerous studies on the benefits of dance on both the cognitive function and quality of life of people with Parkinson's. Additionally, PMI's Dance for Parkinson's class is modeled on the award-winning Dance for PD® program in New York City. They demonstrated some of the benefits of like developing flexibility, instilling confidence, and helping to express feelings in their video "Why Dance for Parkinson's Disease?"
There are many options to keep moving! Most importantly, PMI participant Vivian Ford suggests choosing what you like, so you will keep doing it.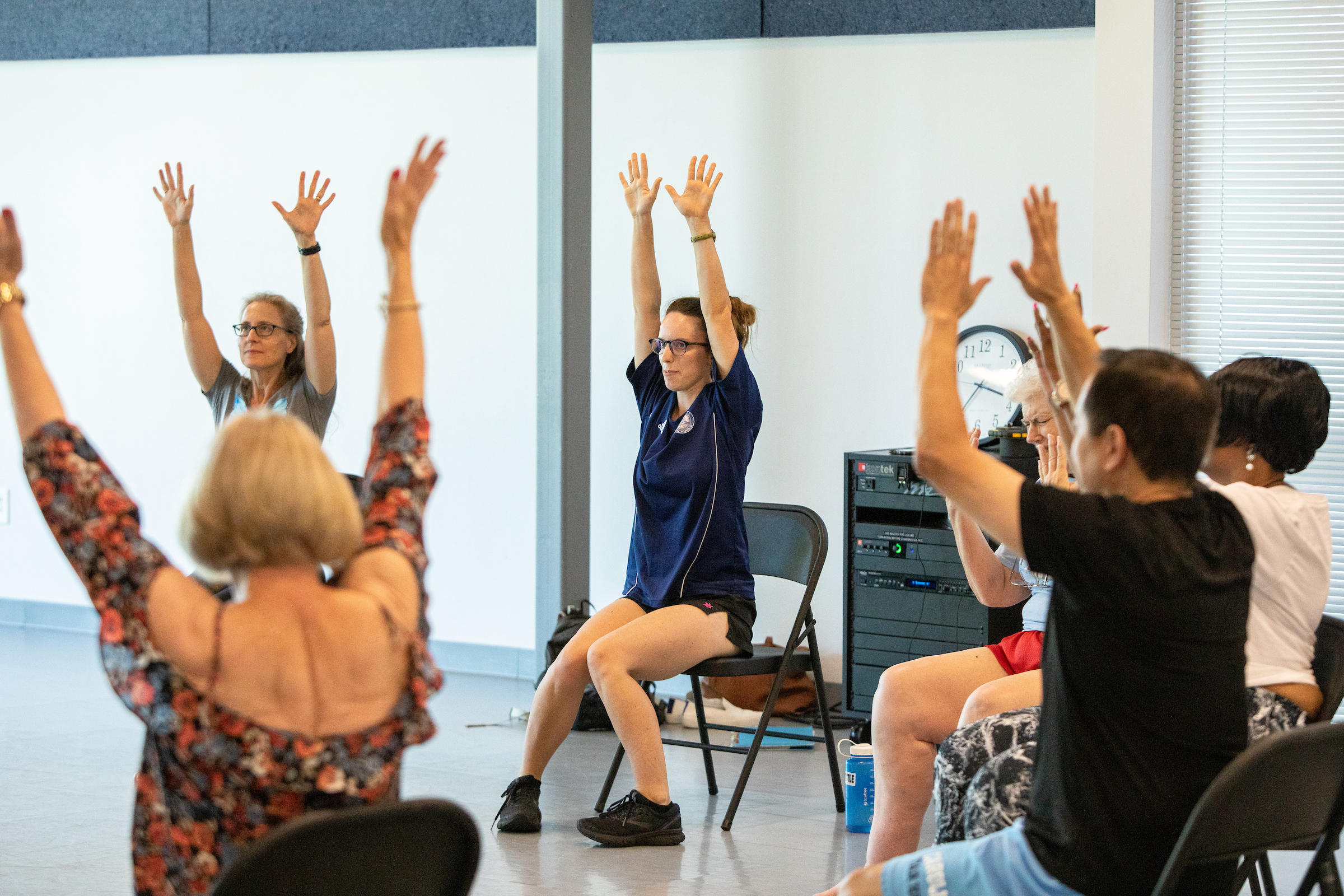 What is the Parkinson's Movement Initiative?
PMI classes focus on mind and body connection through exercise and movement. They provide an opportunity to engage with loved ones and meet others who are living with Parkinson's disease outside of a clinical setting. Along with the physical benefits, PMI provides a space of shared experience and understanding.  
PMI currently offers two types of classes—Dance for Parkinson's and Pilates for Parkinson's. 
Participants in Dance for Parkinson's will learn choreography in various dance styles and have the opportunity to improvise and create unique movement sequences. Pilates for Parkinson's consists of a warm-up focusing on alignment, exercises challenging strength and balance, and a cool-down for stretching and relaxation.
How do I sign up for free Parkinson's movement classes?
Our free, weekly dance and Pilates for Parkinson's classes are offered virtually via Zoom and in-person at ADF's Scripps Studios in Durham, North Carolina. These classes are offered on a drop-in basis, which means you are welcome to drop in anytime that works for you! You do not need to attend the entire series in order from the beginning. We are always happy to welcome new faces!
Additionally, you can learn more about the classes and register on our website here.
Want to see what a class is like before you sign up? PMI built an online catalog of pre-recorded videos as an additional option for you to continue your practice at home. Check out our YouTube channel for pre-recorded videos ranging in length from 3-25 minutes with your favorite Parkinson's Movement Initiative instructors.