Dance Professional Workshops
Rejuvenate Your Professional Practice
Hone and re-energize your craft in a vibrant community of professional artists and educators in week-long workshops.
Creative Process with Jennine Willett
June 26–July 2, 2022
In a positive, inclusive, and generous environment, this workshop shares various creative methods in a format that emphasizes experimentation and discussion. Participants work independently and collaboratively with Jennine as a guide, muse, and mentor. They are encouraged to adapt, expand on, and apply her tools in ways that support and inspire their own artistic practices.
Course Components Include:
Concept development using a brainstorming practice called Idea Mapping
Approaches for crafting inspired assignments to generate movement content
Methods of shaping, deepening, and arranging content into a composition
Systems for organizing content, research, and planning during creative processes
An informal presentation for participants to share material and offer insight into their experience of creating during the week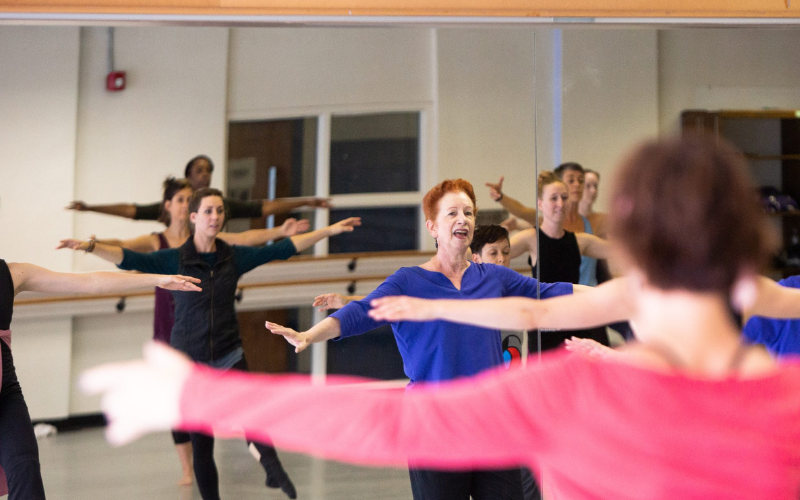 Educators with

Gerri Houlihan


July 3–9, 2022
Dance educators replenish their creative and pedagogical capacities through community-building with fellow educators, focused classes that develop skills, and opportunities for engaging in the wide range of classes and performances ADF offers. 
Schedule Includes:
Technique class with pedagogical strategy and content labs 
Professional development discussions. Example topics: Assessment strategies, Creating inclusive classrooms and curricula
Focused sessions on teaching aspects. Example topics: Working with a musician, Constructing a rich/diverse class playlist
Summer Dance Intensive classes of your choosing
Develop
Engage in 15+ classes with ADF faculty, including daily movement classes and workshop-focused creative or pedagogical sessions.

Workshops offer daily movement classes and a pedagogical or creative focus.

DPWs count toward professional development: up to 4 CEUs available per workshop.
Experience & Connect
Attend professional performances.

Participate in classes and discussions in ADF's

 Summer Dance Intensive.
Establish lasting relationships with artist professionals and colleagues.
Program Requirements
Participants must meet ONE of the following qualifications:
5 years professional experience, OR
Undergraduate dance degree + 3 years professional experience, OR

In-process or completed graduate dance degree
quote left icon
"DPW is a rich, collaborative experience that fills my soul as a mover and teacher. I leave every DPW week with my head and heart full."
Stacey Shumake
2019 DPW participant
quote left icon
"DPW is a place for makers to ask the questions you didn't know you needed to ask yourself about the way you make work. DPW is perfect for any maker looking to explore, experiment, or refine their craft."
Lexi Mondot
2019 DPW participant
quote left icon
"The ADF has reminded me that the power of dance does not lie in perfect technique; dance brings people together to celebrate our humanity, build community, and ultimately change lives."
Annika Sheaf
2018 DPW participant
Scholarships
Tuition Scholarship or Matching Scholarship. Over 60% of students receive some kind of financial support from ADF.