Dance Professional Workshops
Creative Process | Liz Lerman: June 18–24, 2023
Educators | Gerri Houlihan: June 25–July 1, 2023
Inspire Your Professional Practice
Expand your toolbox and collaborate with a vibrant community of professional artists and educators.
Creative Process with Liz Lerman
June 18–24, 2023
Thinking and Moving Into the Future
This workshop fosters imagination, the development of creative tools for use in a variety of scenarios, and offers practices for continued growth, curiosity, and change. Anyone interested in developing their creativity is welcome. Each day will include moving, thinking, discussing, and creating. Taught by Liz Lerman and Leah Cox in a collaborative environment constructed in nurture and rigor.
Photo by Lise Metzger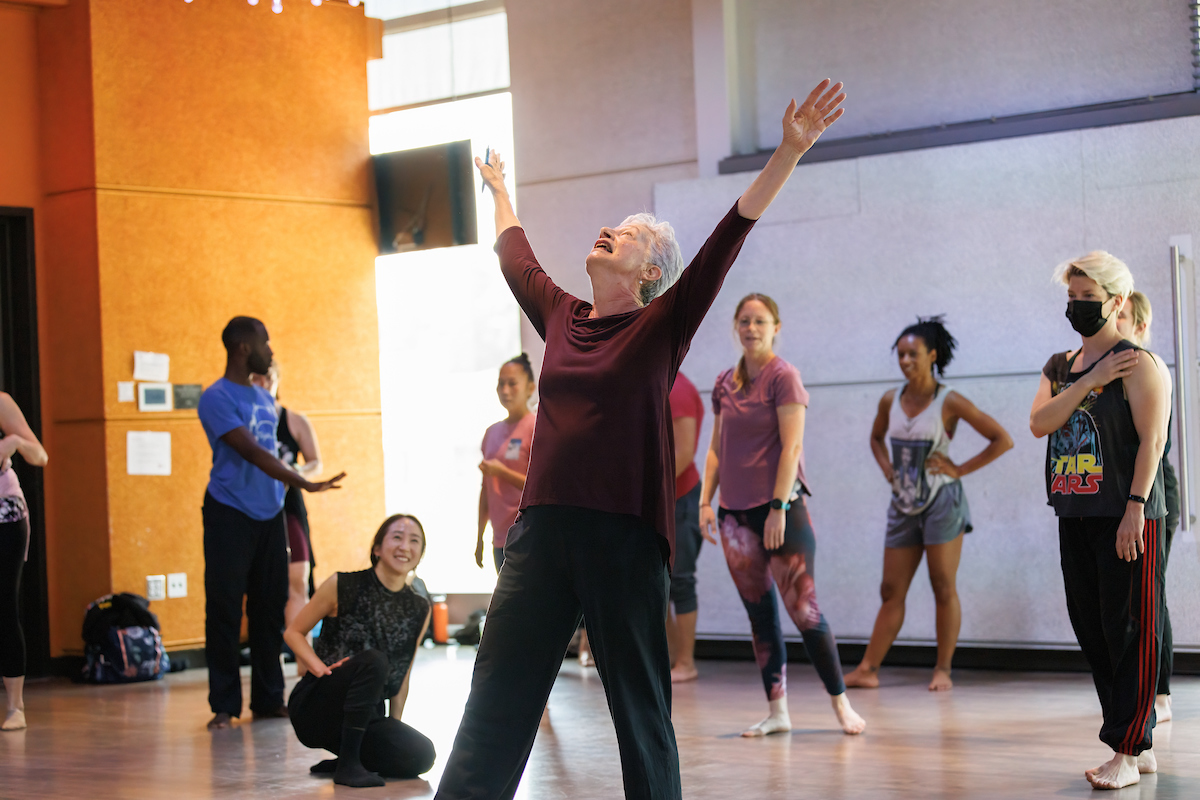 Educators with

Gerri Houlihan


June 25–July 1, 2023
Dance educators replenish their creative and pedagogical capacities through community-building with fellow educators, focused classes that develop skills, and opportunities for engaging in the wide range of classes and performances ADF offers. 
Schedule Includes:
Technique class with pedagogical strategy and content labs 
Professional development discussions. Example topics: Assessment strategies, Creating inclusive classrooms and curricula
Focused sessions on teaching aspects. Example topics: Working with a musician, Constructing a rich/diverse class playlist
Summer Dance Intensive classes of your choosing
Refine

Be immersed in daily classes and dialogue with your workshop leader and ADF guest faculty, focusing on creative process or pedagogy.

DPWs count toward professional development: up to 4 CEUs available per workshop.

Experience

Attend professional performances.

Have to freedom to customize your schedule with optional classes and discussions in ADF's

 Summer Dance Intensive.

Connect

Establish relationships with fellow professionals and guest artists.
Expand your national network for future collaboration.
Program Requirements

Participants must meet ONE of the following qualifications:

5 years professional experience, OR
Undergraduate dance degree + 3 years professional experience, OR

In-process or completed graduate dance degree.
"I have come out of [DPW] refreshed and reinvigorated to pursue my dance career and creative passions with new vigor and the tools to execute those visions."
Alexis Borth
2022 DPW participant
"ADF reignited the artistic fire in my soul."
Stefan Dolbashian
2022 DPW participant
"I love the ADF culture and the celebration of dance in a beautiful, quiet setting. Being able to take classes with very well-known and accredited professionals was such a treat. I thoroughly enjoyed getting the opportunity to get to know other educators who are likeminded."
Mary Allison Rennels
2022 DPW participant
Scholarships & Tuition Discounts
Apply online for a tuition or matching scholarship. 
OR receive a 20% tuition discount as a member of NCDEO, NDEO, or an ACDA Institution.